... and it was awesome. We didn't fly to Paris, or go on vacation (well we just came back from visiting family in Florida); we didn't go all out. We agreed when we first got married that we would give each other the "Traditional" anniversary gifts rather than the "Modern" ones (that was before I knew that I wouldn't get a diamond until our 60th anniversary - DANG! LOL). It has been so much fun over the years looking for the gifts!

Today is our 9th anniversary. So I searched high and low for a "pottery" themed gift? What kind of pottery do you get a guy anyway?? I ended up getting him this: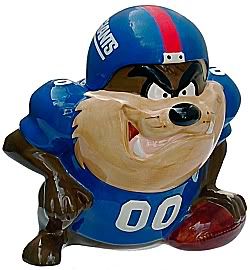 I found it on Ebay. He liked it - yay!

Pottery? Check.
Sports related? Check.
New York Giants related? Check.

However, about 5 hours after he got it, he dropped the lid and it shattered. I felt sooooo bad. :( He felt so bad. I felt bad that he felt so bad. It was an accident and it is just stuff after all. So I am on the hunt for another one like it. Or at least the lid. Turns out this Cookie Jar is kinda rare...

He got me a really pretty plate that was personalized with our initials and anniversary date. Very romantic. :) I put it up in the kitchen. He got it at PersonalizationMall.com - love that site...

He also cooked his Gram's Spaghetti (he makes his sauce from SCRATCH ladies!) - this was the reason I married this man. LOL I am making Lemon Ice for dessert, after which we will probably settle down with the kids and watch a movie or something.

While getting the dinner dishes cleaned up we looked out the window and marveled at the snow covered landscape outside. This is definitely our first (and maybe only) anniversary that we will see the ground covered in snow!

We had a nice quiet day at home. I wouldn't have preferred it any other way. :) Happy 9th Anniversary to my darling David...